It's been part of our Filipino culture that we send balikbayan boxes to our families back in the Philippines as a way to show that we haven't forgotten about them. We fill these boxes month by month with clothes, groceries and other items bought from what's left of our monthly salary.
LBC, the Philippine leading cargo service company, acknowledges the importance of these boxes and they want to give back to their patrons with the launch of the Padama sa Padala Middle East Promo which comes with exciting instant and raffle draw prizes  such as roundtrip tickets to the Philippines, grand vacation for 2, electronic gadgets, etc.
Padama sa Padala Middle East Promo by LBC Express
As part of their promise to move lives, LBC wants to highlight that each balikbayan box sent is not just a product of a cargo company, but an expression of an OFW's generous love for their families back home. OFWs from the UAE, Bahrain, Kuwait, Qatar, and Saudi Arabia are eligible to join the said contest. Below are the mechanics and guidelines.
Mechanics and How to Join
There are 2 ways for you to join, you can join the Click-A-Prize or their Weekly Raffle, both have their corresponding prizes.
CLICK-A-PRIZE (PLAY FOR FREE & WIN A VOUCHER!) MECHANICS:
Enter the raffle site and fill out the entry form. The raffle site is – http://lbcpadamasapadalame.filipinotimes.net/
Spin for your prize and you will automatically win a prize voucher. Prize vouchers will be from a Grand vacation for 2, Roundtrip tickets to the Philippines, electronics or other cargo or partner discount vouchers.
Each voucher has a cargo requirement with validity date which customer has to meet in order to claim the prize in the voucher. A copy of the voucher will be forwarded to the e-mail address provided by the customer.
Upon transaction with LBC, customer has to present a printed copy of the voucher.
Once required transaction is successfully met, LBC will issue the prize to customer.
For discount vouchers, you can only use one (1) voucher per transaction. A customer can use up to two (2) discount vouchers per day (this means 2 vouchers = 2 boxes for sending).
WEEKLY RAFFLE (SEND THROUGH LBC & WIN EXCITING PRIZES!) MECHANICS:
Send your sea cargo or air cargo balikbayan box or avail the document processing service from July 25 to September 30, 2017. Keep a copy of your receipt.
Enter the raffle site and fill out the entry form with the details of your receipt. The transaction number is the number at the bottom part of the barcode of your receipt.
Make sure that you provide the complete details and correct transaction number to qualify for the promo. One entry per receipt only.
Winner will be notified through SMS and voice call by LBC representatives. Winners will also be posted on the LBC Facebook Page.
Below are the Promo Duration and Raffle Draw schedules: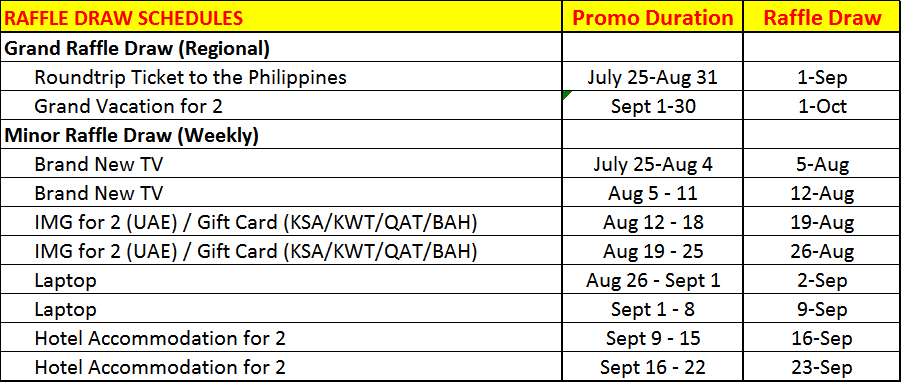 This promo is supported by Philippine Airlines and Travelwings.com.
Contest Duration: July 25, 2017 to September 30, 2017
Terms and conditions apply.
LBC Padama sa Padala Middle East Promo Video
To know more about the promo, Like the LBC Facebook Page or call their hotlines:
• UAE: 800-522-111
• KSA: 800-8-110332 (STC) or 800-8-500058 (other networks)
• KWT: 222-00-428
• QAT: 00-800-100-130
• BAH: 16195063